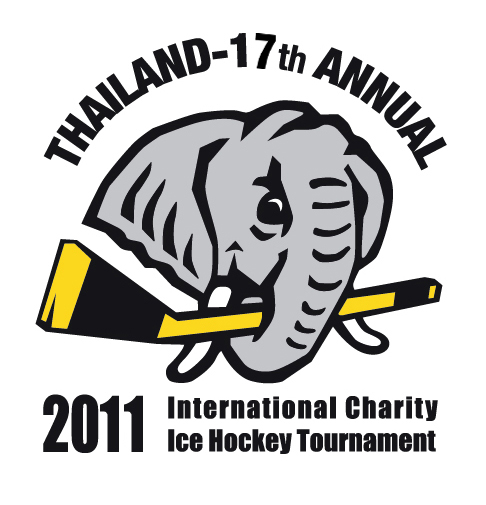 FF members present the OK CUP
1998 proceeds (162,000 Baht).

Veteran FF members Craig O'Brien, Scott Murray, Bert Terry and Kevin Hall donate OK CUP 1997 proceeds to Father Joseph Maier.
The 17th Annual
International Charity Ice Hockey Tournament
Thailand 2011
October 26-29, 2011
Hosted by JOG Sports and
the Bangkok Flying Farangs


Objectives of Tournament:
Promote ice hockey in Thailand.
Raise money for Father Joseph Maier's Human Development Center for needy children in Klongtoey.
Venue:
Imperial World Plaza Ice Skating Rink,
Samrong, Bangkok, Thailand

Spectator admission is free

Introduction
The International Charity Ice Hockey Tournament, once known as the OK Cup, is an annual charity ice hockey tournament hosted by the Bangkok Flying Farangs ice hockey team and JOG Sports. The tournament raises money for Father Joseph Maier's Human Development Center.
To date, the tournament has raised over 4 million baht in donations. In a continuing effort to raise even more funds for this worthy cause, the Flying Farangs are looking to obtain sponsorship for the 2011 tournament. This is an opportunity for organizations to use this event to promote their company and to contribute to a local charity and to the local community (there will be at least 4 Thai teams playing all of which consist of only Thai players).

Ice Hockey in Thailand
Though ice hockey has been played in Thailand for over 30 years, it is in the past 5 years that the game has seen tremendous growth. 1999 was the first year of the Bangkok Hockey league which consisted of 5 teams. The 2000 version saw 10 teams of Thai players and one ex-pat team vie for the championships. With the closing of the Samrog Ice Rink, the league was temporarily suspeneded. Now with playing time available to hockey players at Imperial World Samrong open again, the Thai World Ice Hockey League is entering it's seventh year of operations with four teams evenly matched with a mix of Thai and International skaters. The TWHL will take a mid-season break during the Charity Tournament. Thais really enjoy the fast action and the physical contact. There are tournaments held each year in Hong Kong, Manila,Singapore, Malaysia, Dubai, Mongolia and Bangkok. Hockey in Thailand was recently featured on the Asia Sports Show on Star Sports. There have also been stories in Metro Magazine, The Big Chili, Guide to Bangkok, Bangkok Post, the National Post in Canada and in the Zingasia website.

Sponsorship:
The Flying Farangs are grateful for any sponsorship obtained no matter how modest. This year we are looking for sponsors to donate trophies, provide products which we can sell to spectators and players, purchase ads in the program and make cash donations. We are seeking several major sponsors which we have divided into gold, silver, and bronze categories. We are seeking only one gold sponsor who will receive the naming rights for the tournament eg. "X Company Bangkok Charity Ice Hockey Tournament".

Sponsors can contribute in the following ways:
donate prizes
sponsor trophies
donate products which can be sold (eg Pepsi and Budweiser in 1998)
pay for some of the expenses i.e. ice rental
make a direct donation to Father Joe.
OK Cup Charity Donation History
Money is raised through entrance fees, sponsorship donations, T-shirt sales and beverage sales.
Donation History
2005 - 605,000 year 11
2004 - 388,200 year 10
2003 - 373,200 year 9
2002 - 639,849 year 8
2001 - 607,000 year 7
2000 - 704,235 year 6
1999 - 410,000 year 5
1998 - 162,000 year 4
1997 - 70,000 year 3
Total donations thus far, close to 4 million Baht.
Tournament History:
2010 Champions
International Division - Taipei Typhoon
Asian Division - Canstar (Thailand)
2006 Champions
International Division - Abu Dhabi Scorpions
Asian Division - Canstar (Thailand)
2005 Champions
International Division - Tamglass Leijonat Finland Lions
Asian Division - Hong Kong Hitmen
2004 Champions
International Division A - Siberian All Stars
International Division B - Bangkok Flying Farangs A
Asian Division - Vancouver Venom
2003 Champions
International Division -
Asian Division - Chinese All Stars
2002 Champions
International Division - Tokyo Canadians
Asian Division - CanStar (Thailand)
2001 Champions
International Division - Team USA
Asian Division - CanStar (Thailand)
2000 Champions
International Division - Hong Kong Selects
Asian Division - CanStar (Thailand)
1999 Champions
International Division - Hong Kong Selects
Asian Division - CanStar (Thailand)
1998 Champions
International Division - Tokyo Canadians
Asian Division - CanStar (Thailand)
1997 Champions
International Division - Hong Kong Selects
Asian Division - Thailand
1996 Champions
Hong Kong Selects
1995 Champions
Russian Travelers
For more information please contact:
Scott Whitcomb